In The Spotlight With Mrs Lane, Year 4 Teacher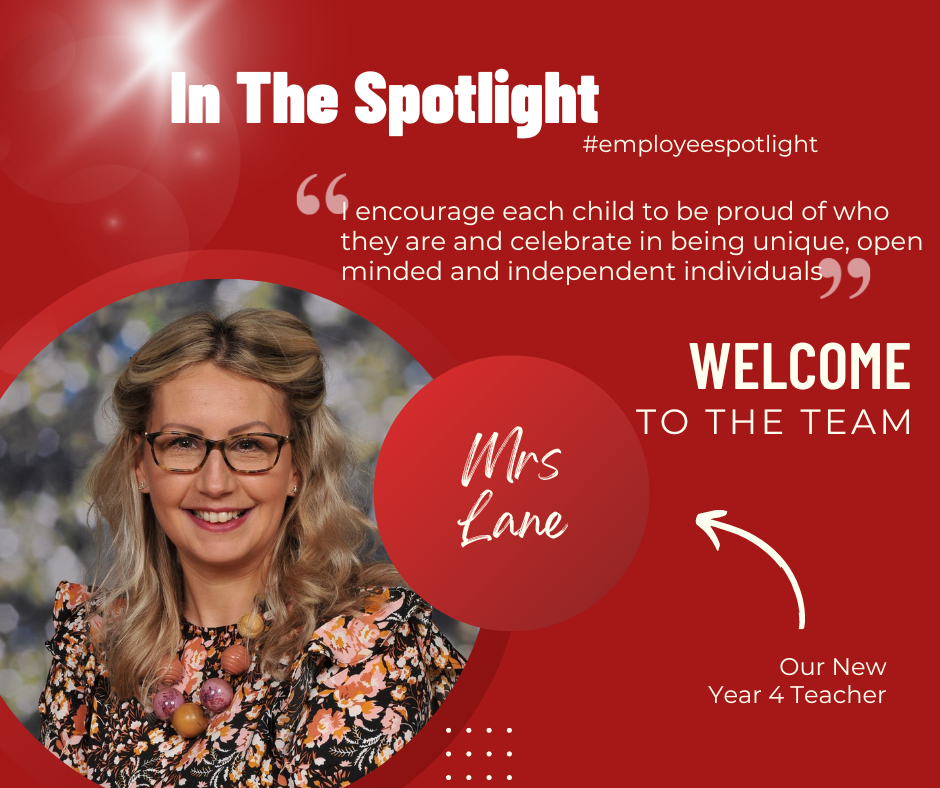 Q: Tell us about your career background
A: Throughout my career, I have been involved in a wide assortment of diverse educational settings and settings designed to support the social and emotional development of children and young people. Whilst at college and university, I participated in voluntary work placements alongside my studying. This focused on working with the social side of children and teenagers and engaging with the local community to help build cohesion between the local school and the community. I requested placements in a wide variety of settings to best understand how each aimed to meet the needs of their learners. This included a PRU, Special School, a small village school and a maintained school within a city location. These experiences have fed into my understanding of how learners' needs vary based on both area and circumstance, and how all can be supported through specific learning targets and support.
Before beginning my career at AHS, I was part of a wonderful local primary school. There, I was fortunate to spread my wings from teaching assistant to a full-time teacher where I received support from colleagues to become the best that I can be for my pupils.
In my role as a teacher, I see it as my duty to prepare and deliver imaginative and inspiring lessons that will motivate pupils to ensure effective learning takes place and children make excellent progress. For me, this must be done through a creative, dynamic and engaging curriculum which is centred on their needs and both excites the learners and gets them hooked on what is being taught. I feel that teaching allows me to deliver lessons that are interactive, purposeful and necessary to move children's learning forward.
Q: What is important to you?
A: I make it my priority to get to know children's interests, talents and struggles so I can provide a holistic approach of nurturing the whole child. Every child in my care is valued as an individual; I aim to nurture confident, respectful children who are well-rounded members of our society. I encourage each child to be proud of who they are and celebrate in being unique, open-minded and independent individuals. Within my teaching role, I am PSHE lead, this is very close to my heart. All children in my care are motivated and inspired to be respectful of themselves and of others within school, our local community and the wider world. I take my responsibility to prepare children for life in modern Britain extremely seriously and I ensure that the School values and the fundamental British Values are lived out through the work and ethos of the school I am part of.
Q: What do you enjoy doing in your spare time?
A: I am an active member of The Weimaraner Club of Great Britain Rescue & Rehoming Service. I transport rescue dogs to their rescue homes to give them the best possible chance of finding their forever home!
I also enjoy long walks along the Norfolk beaches and British countryside - having two Weimaraner dogs myself, I spend my spare time in the open air, exploring new places with my family.
Paddleboarding is my favourite pastime, I love the freedom that being on the open water offers.
I enjoy making time in my day for meditation and mindfulness, I use the Headspace App to calm, self-discipline and ensure mental resilience.