In The Spotlight With Mr Lawrence, Music Teacher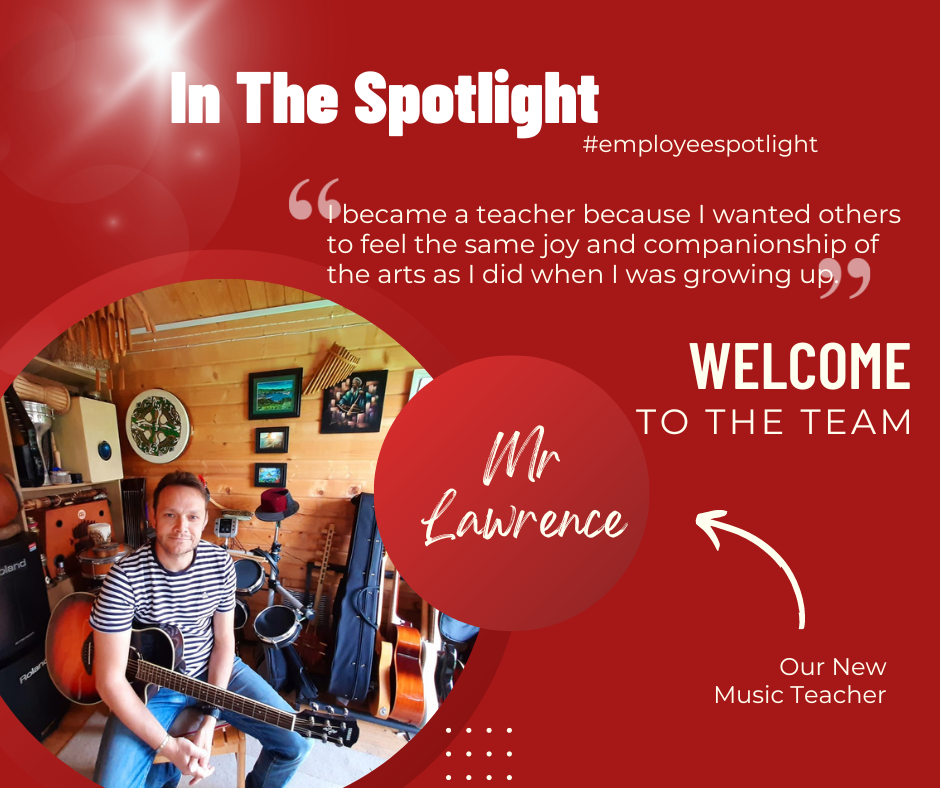 Q: How did you become a teacher and why?
A: I became a teacher because I wanted others to feel the same joy and companionship of the arts as I did when I was growing up, and still do to this day.
Q: Tell us about yourself?
A: I am a multi-instrumentalist and I like most kinds of music. I have spent many years playing in bands as a guitarist and keyboard player, playing everything from rock to folk. My music has taken me all around the world as far as New Zealand. I have composed hundreds of pieces which have been performed around the world. These include a festival in Zanzibar, music for an award-winning film (which my production company produced) and a stage play at the National Theatre. I have released a number of albums in an array of genres such as jazz, world music and rock/pop. I have learned so much in a varied musical career which informs my teaching.
Q: Tell us an interesting fact about yourself
A: When I was 9 years old I toured the UK with the Welsh National Opera.
Q: If you were to write a book, what would it be about?
A: In addition to my musical pursuits I am a published author. I have written four novels, four novellas, two screenplays, a travelogue, an academic thesis and ten musical plays for schools. My production company recently released it's first film The Beachcombers, featuring Emilia Fox. It has won a number of awards at festivals around the country and we are in the process of making our next film as I write. I have also written two full-length plays which are due to open in London next year.
Q: What would you do if you never had to work again?
A: I would keep working. I love my work and always want to keep improving.
Q: What is important to you?
A: Family
The children at Ayscoughfee Hall School are having so much fun in Mr Lawrence's active music lessons.