COVID-19
We are really looking forward to welcoming the children back to school on Monday 8th March.
Please see the letter below dated 23rd February, which outlines the systems and procedures we will have in place for their return to help everyone stay safe.
If you have any further questions after reading the letter, please email admin@ahs.me.uk.
Common cold and covid-19 symptoms
In the winter months we expect colds and similar viral infections to circulate. Parents may be left wondering what to do if their child develops a runny nose or a cold and which symptoms warrant testing (and remain away from school whilst awaiting results) and those which on probability do not justify testing (and can therefore stay in school). This will ensure that children are not unnecessarily kept away from school and exposed to inappropriate testing. To help guide you in your decision making please see the flow chart below.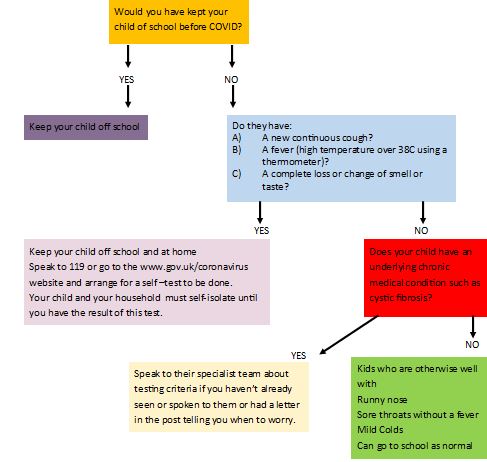 If your child develops or is suffering from ANY of the following symptoms they MUST NOT attend school. They must stay at home and self isolate along with other members of your household and get a test to find out if they have coronavirus.
A new continuous cough
A fever (high temperature over 38C using a thermometer
A complete loss or change of smell or taste
All children can be tested, including children under 5, but children aged 11 and under will need to be helped by their parents if using a home testing kit
If a child develops coronavirus symptoms at school, their parents will be contacted and asked to collect them immediately to self isolate and they will need to remain away from school awaiting test results. We understand this may be inconvenient but we need to do this to protect everyone else.
Anyone who displays symptoms of coronavirus can and should get a test.
Please contact the school if your child has symptoms or if anyone in your family has symptoms or is being tested for COVD-19.
For further information please refer to the letter sent via Parentmail on the 17th September 2020, a copy of which has been attached below and visit www.nhs.uk/conditions/coronavirus-covid-19 or visit www.gov.uk/coronavirus