Year 6 Artic Explorers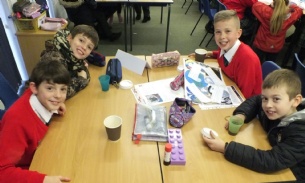 On Friday 24th January Year 6 spent the day in the Arctic Explorers training camp. During the course of the day they investigated the types of animals they might encounter in the Arctic, learned how to train to be an explorer by pulling tyres, practised getting into two sleeping bags whilst wearing gloves, tested different materials to see which would be the best for keeping warm and found out about the dietary requirements of Arctic Explorers. We all tasted 'pemmican' which is a high calorie snack eaten by people in very cold climates and most of us agreed it wasn't very nice!
At the end of the day the whole class passed their course and received a certificate stating that they were fully qualified to explore the Arctic.