Field to Fork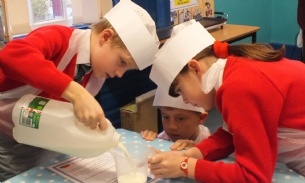 We were thrilled to have educational events provider Kids Country visit the school on Tuesday 5th November 2019 to teach our children the field to fork journey of their breakfasts.
All our children took part in hands-on workshops covering everything from sausage making with free-range rare breed pork, to making pancakes, and from the 'metre square farm' to learning about what makes a healthy breakfast. The highlight of the day for many of the children was a sit on a huge John Deere tractor as Jim Burgess from Park Farm Thorney, Peterborough, talked the children through how tractors and other machinery are used on the farm to grow all of the crops for our cereals.
In Spalding we are surrounded by farm land so it is really important that our children understand what is happening around them; learning where key parts of our breakfast comes from and what the farmers have to do to deliver those ingredients is a great way for our pupils to become better engaged with agricultural Lincolnshire and have a greater appreciation for healthy, locally produced food. It is also important we show our children the amazing career opportunities in the agricultural industry, whether that is in science, engineering, digital technology, or hands-on on the farm.
Arranging for event organisers such as Kids Country to come and visit the school is so important to us. It allows us to deliver our belief that learning should be enjoyable, fun and hands-on in order to help our children to better understand and appreciate key parts of the curriculum.
The children had an amazing day and were so happy to be involved and very enthusiastic to learn - who knows with the help of Kids Country we may have inspired the next leading tractor engineer!