Rounders Victory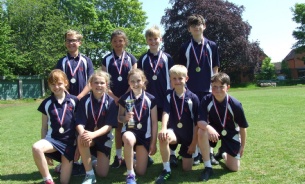 On Tuesday 22nd May our Rounders A and B Team took part in the U11 Agilitas Rounders Tournament. Our A Team played Spalding Parish in their first game and won comfortably 17-4 and went on to beat the other teams in their pool. They continued to show excellent composure against a strong Monkshouse team in the play offs to win the tournament.
Our B Team finished a respectable fourth place overall.
We now look forward to playing the other two winning schools from their local area on Monday 11th June.
Well done everyone!