King Charles III Coronation Celebrations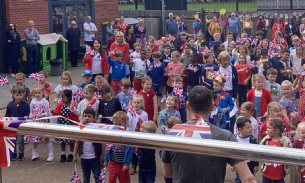 We have had a lovely afternoon celebrating the King's Coronation. The afternoon began with the children being presented with a commemorative packet of sunflower seeds. We spent the afternoon on the playground (thankfully the weather was kind) where our year 6 children gave a speech about the King and the whole school sang a special Coronation Song. This was followed by lots of traditional games and an afternoon treat of scones, brownies and tea. Thank you to all our parents and family members for joining us to make this a memorable occasion.
To view more photographs of the afternoon please chick here to view our gallery.