Charity Bake Sale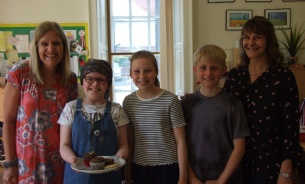 Thanks go to our School Council for organising an excellent charity bake sale today and for all our parents and children who brought in cake donations.
The bake sale was held to raise funds for the Brain Tumour Charity after the School Council heard that a local school girl was diagnosed with the condition in June 2015.
It was a great success, Lily who attends John Harrox Primary School and her mum came into school to spend time with the children and thank them for fundraising to help children with brain tumours.
It was a real pleasure to meet Lily, such a happy and inspiring child. From all the children and staff at Ayscoughfee we wish her all the very best with her ongoing treatment.