The King's Coronation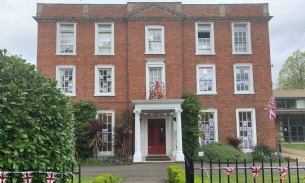 The school is looking splendid this morning as we prepare for The King's Coronation celebrations on Friday. The bunting is out, Coronation artwork produced by the children is displayed in the windows and our wonderful crown adorned with the beautiful handmade recycled flowers made by our children is in pride of place!
In school the children have started learning about the Coronation and are really looking forward to the event. We have discussed a great deal about the King and found some interesting ways to celebrate his life and work - including making Welsh cakes in Reception, which we have all enjoyed sampling.
We are very much looking forward to welcoming our parents into school on Friday afternoon to join in with our Coronation celebrations.