School Garden Project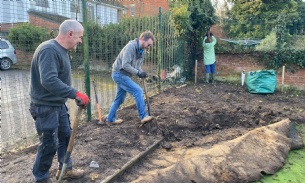 We are so excited to share our plans and vision for our school garden project, which is now very much underway.
We have sectioned off a corner of the school grounds and are erecting a large poly tunnel, raised beds and a tool shed. In addition, there will be a wetland area and other planting and growing spaces. This will be an unbelievably valuable resource for the children, and we are grateful to the PTFA for funding the project.
Our vision is for the children to be able to grow their own fruit and vegetables and to be able to use these in cookery sessions at school – giving them a richer understanding of the value of growing and eating their own food.
We would like to thank Mr Darley for the garden design and all his hard work on the project; also, Mr Halifax, Mr Gent and the Patman family for the hours they spent this Saturday getting the project off the ground.
We will be working again on the project this coming Saturday, 4th February, and I would like to appeal to our Ayscoughfee family for assistance. If anyone can spare a couple of hours to help it would make a huge difference to the project and to the speed at which we are able to get it up and running for the children.
To keep up to date with the progression of the project please click here The School Garden Project Blog or visit our Facebook and Instagram page @Ayscoughfee Hall School.