"Commotion In The Ocean"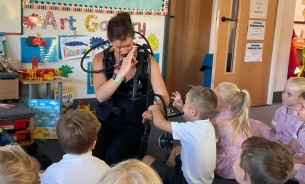 Our Reception class have really enjoyed their topic this term, "Commotion In The Ocean". They enjoyed World Ocean Day, joining hundreds of schools around the world to take part in live lessons and workshops to learn about the ocean and how to preserve it. We were privileged to meet virtually with Marine Biologists and Ecologists to learn the importance of caring for our oceans.
They have also visited Skegness Aquarium, where they asked fantastic questions during the talk and were so keen and enthusiastic throughout. Our favourite creature was definitely Nudge, the 7ft Zebra Shark.
Finally, Mrs Hicks came in to class to show us her equipment and talk about her experiences of diving with different ocean creatures. The children learnt lots of special terminology and signs which we are going to keep practising.