Trucker Tim!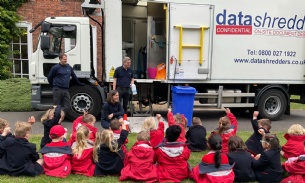 The children of Ayscoughfee Hall School are on a mission this year to find ways to help care for our planet. As part of their learning we had a visit from Datashredders, a shredding company, to show the children how wastepaper is shredded in their big mobile truck, which visits homes, schools, hospitals and businesses.
This is part of Datashredders' Big Clearout Campaign which is aiming to save 350,000 trees this year!
Staff on the truck gave a demonstration of how paper is shredded and talked to the children about the importance of recycling. They brought with them a celebrity – TikTok star and Datashredders truck driver Trucker Tim!
The children showed great understanding of why we need to recycle and were intrigued to see Tim put their collected bags of waste paper into the big machine and come out shredded.
The shredded paper was then sent off to UK paper mills for recycling into toilet roll!
Afterwards, the children were all given a fridge magnet with a list of items they can tick off as they recycle them at home. We are so proud of the enthusiasm the children have shown towards caring for our planet and how the school can become more sustainable as we strive towards gaining the Eco-Schools Green Flag award.