Christmas at AHS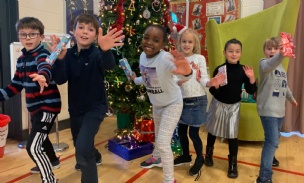 We have had a very festive few weeks celebrating Christmas with our children. The Early Years and Infant children were fantastic in their Christmas plays and so excited to perform them on stage to their parents.
The children have enjoyed decorating the Christmas trees in school, getting creative and working hard making their Christmas presents and cards to take home to their parents and Tanglewood nursing home. The infant children have celebrated the Christmas story through Godly play, and the whole school enjoyed a delicious roast turkey Christmas dinner. All the children have had fun at their Christmas parties, playing games including bingo with Father Christmas and his special elf helper. Today, the last day of term we finished our Christmas celebrations with a joyous Christmas Carol Service by Zoom to our parents and grandparents. The children were fantastic and had a fabulous time performing their songs which we invite you to watch.
Year 3
Year 4
Year 5
Year 6
Finally, may we wish each and every family a wonderful Christmas and a happy New Year.