It's Beginning To Look A Lot Like Christmas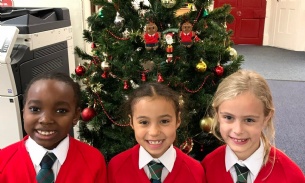 This week we have been busy getting very Christmassy. All the Early Years and Infant children have been enthusiastically rehearsing their Christmas plays and cannot wait to perform them to their parents in school next week.
We have been putting together a wonderful virtual Christmas Carol Concert and decorating Christmas trees throughout the school. Reception children have turned their home corner into Santa's workshop and their Christmas Post Box is filling up nicely! All the children have been getting creative and working hard making their Christmas presents and cards to take home to their parents and send to Tanglewood Nursing Home. At Ayscoughfee Christmas is a time for kindness and giving and this year we are collecting for Agape Food Bank and would welcome any donations.