Remembrance - Every Poppy Counts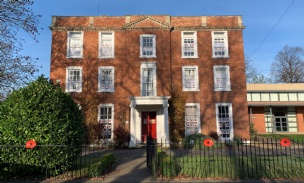 The children have been thinking about the importance of Remembrance in school, as part of this we decided to decorate the front of the school with Poppy pictures which the children painted, coloured or collaged. We also put large poppies along the railings so we can feel we are together with the community in remembering.
By the power of Zoom we held a Remembrance assembly and our School Captains read a peace poem, the House Captains and Year 2 commemorated some of the soldiers who appear on the Spalding War Memorial. Both of these videos can be viewed below.
Thank you for all the donations which the children have used to purchase poppies and related items to support the British Legion.
Henry in Year 2 is riding 11 miles on his bike this weekend to raise extra funds for this worthwhile cause and we wish him all the best!