Outdoor Learning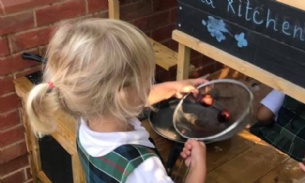 Since returning to school our Early Years classes have been making the most of our wonderful outdoor learning environment. There are so many benefits to learning outside of the classroom, exploring and playing in the outdoors builds the children's fine and gross motor skills as well as learning about the world; the nature around us and discovering how things work!
It is so important to commit to learning both indoor and outside the classroom. It teaches children that learning occurs everywhere, at all times not only when they have a book open and a pen at hand!
At Ayscoughfee we believe it is important to build learning opportunities that take children out of the classroom. This week Year 1 had their maths lesson outside. They ran around muddling up their numbers before coming back together to get into the correct order. Year 6 had a fun Forest School lesson experimenting with different mixtures of mud and clay to make bricks. This is linked to their history learning about the Indus Valley civilisation.