Official Opening of the new Infant Centenary Block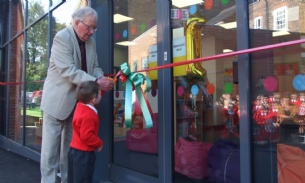 On Friday 20th September, in glorious sunshine our new Infant Centenary Block was formally opened.
Past and present staff, pupils and Governors, together with other invited guests, were welcomed to the school, and treated to the whole school singing 'Musical Memories', accompanied, appropriately enough, by a CD of past pupils who had recorded the number after a performance in Birmingham.
The official 'Ribbon Cutting' was undertaken by the oldest ex pupil with whom the school is in regular contact, Mr. Ian Smith, now aged 90. He spoke of his time at the school, his memories of the Coronation in 1936 and of the journey he undertook (alone, aged 5) daily from Holbeach, at first by bus, and then steam train.
Helping Ian with the scissors was the school's current youngest pupil, Philip, aged three years and three months.
Following a Blessing by the Rev. Aileen Workman, the children enjoyed squash and biscuits in the hall, whilst older visitors were able to sample a superb cake based on the design of the new building by Sara Woodrow of Epulari Cakes.
The whole afternoon went brilliantly, and we were delighted that Ian and his brother Stuart could join us. The School is 100 years old this year, and we could think of no better way to start the celebrations than by the official opening of the new Infant Centenary Block. It is a great addition to the School and will, as Ian said in his speech, be a wonderful place for future generations of children to start their education.