The Yellow Rose Of Ayscoughfee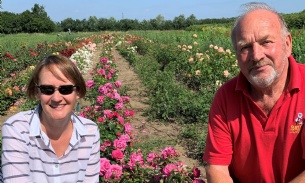 One of the ideas that came out of initial meetings to celebrate our centenary was the possibility of having a rose named after the school. I took this project on and, I'm delighted to tell you, we have registered a new rose which will take the name 'Ayscoughfee'.
Working with Robert Webster, a rose breeder in Sheffield, we were given several choices and opted for a sunny yellow variety. Yellow roses denote joy, happiness and friendship: the qualities we feel we have in abundance at our little primary school.
I contacted Baytree Garden Centre and they agreed to grow the rose so it can be purchased in future years. Being completely clueless about the whole process of budding, I popped along to Baytree's rose gardens in Weston, for a lesson from Reinhard Biehler.
Reinhard showed me four rose stems which he had received from the breeder. This is the budwood that will produce Ayscoughfee blooms in 2020. The buds will be carefully snipped from the stems and grafted onto briars. Nature will take its course and, with tender care from the Baytree team, we should eventually have fabulous yellow roses for the public to buy. The name Ayscoughfee will have appeal to many local people, even if they have no connection with the school itself.
I know the school is looking forward to having the Ayscoughfee rose in its gardens. We will make sure Ayscoughfee Hall Museum and Gardens, across the river from the school, is given a rose too. We have a great affinity with the hall as it was here the school was located for over 60 years. Their history is our history. Discussions have been held with manager, Julia Knight, and we plan to gather archive material so that visitors to the hall in 2020 will be able to learn more of our shared past.
2020 will be a time for reflection on our 100 years of educating children but it's also a time to look to the future. With our own special rose we hope to always be reminded of the ethos of Ayscoughfee Hall School: to nurture confident, happy children who bloom and grow.