The Countdown Begins...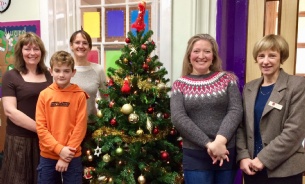 In 2020 Ayscoughfee Hall School will be 100 years old.
In 2020 Ayscoughfee Hall School will be 100 years old. To mark the occasion we are planning a whole year of activities and events which will involve current staff and pupils plus anyone who has been a part of our Ayscoughfee family over the years.
Our history
The school was established in 1920, initially as part of Spalding High School in Welland Hall, our current home. For reasons of space the kindergarten class moved over to the historic Ayscoughfee Hall later that year and the preparatory class swiftly followed suit. It wasn't long before the school became independent from the High School and so the name Ayscoughfee Hall School was born. It then relocated to Church Street in 1982 and finally it came full circle, returning to Welland Hall in 1993.
The 100th birthday group committee
I know it's still 2018 but time will soon fly by so we have a committee making initial plans for our centenary celebrations.
Deputy Head, Sally Chester, plus Helen O'Rourke and governors Debbie Whatford and me, Trish Burgess, have already met to brainstorm ideas for our special year. We have been joined by Year Six pupil, Jack Bowser, who is our liaison with School Council. Jack will help us with the planning and be able to attend events in 2020 as an Old Ayscoughfian.
We have established links with Julia Knight at Ayscoughfee Hall and we're delighted that she and her team are very happy to be involved in the celebrations because of our shared history.
Dates for your diary
If you can get hold of a 2020 diary, there's a special date you may want to jot down.
Sunday 21 June 2020 - a huge family picnic for everyone in the grounds of Spalding Grammar School. We have lots planned for this day so watch this space!
What else will be happening?
There will be a celebration service for current pupils and their families in the gardens of Ayscoughfee Hall, the school's home for many decades. Date to be confirmed.
We don't want to reveal all our secrets just yet but there will a number of different activities, many of them with the '100' theme.
How can you help?
We're on the look out for anyone who can offer help if they have specific skills or if businesses can sponsor some of the events we have planned. We will do some shout-outs for help as we go along but if you think you have an idea or can assist us in any way, please contact Sally Chester via the school or email SChester@ahs.me.uk
Trish Burgess - Governor