Saturday 6th May 2023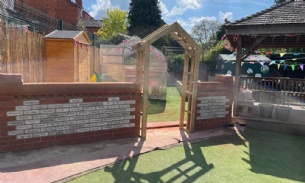 What a busy week we have had in the school garden. Thank you to Seagate Homes who have done an amazing job building the wall, with personalised bricks purchased by the children and their families to be a part of school history.
Our thanks also go to Mr Bingham and Mr Clark who gave up an afternoon jet washing the artificial grass and of course to Mr Darley who has invested so much of his time to the project. The PTFA King Charles III Coronation Garden is almost complete!