Tuesday 28th February 2023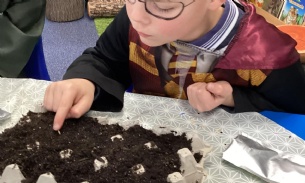 The first vegetable / flower seeds and onion sets as part of our school garden project have been planted this evening by members of our fantastic Eco club! The children learnt which way up to plant the onion sets by identifying the roots and establishing that these needed to be in the soil to anchor the plant and absorb moisture and nutrients required to grow. All the seedlings were planted in biodegradable/compostable planting options to help reduce plastic pollution and to promote the school's work on sustainability.
We are looking forward to seeing our petunias, marigolds, tomatoes, chillies and cucumbers begin to germinate and grow and we hope as the weather warms up to plant our seedlings along with other vegetable plants out in our fabulous new polytunnel. Well done everyone and thank you to Mrs Bristow, Mr Law and Mrs Woodrow for the kind donation of seeds and onion sets.