Saturday 11th February 2023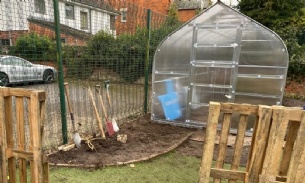 We could not be more pleased that after a lot of hard work the polycarbonate tunnel is up! Thank you to the Jeffries family, the Patman family, Mr Fairbrother, Mr Gent, Mr Darley and Mrs Wright for all of their help and hard work!
It was lovely to see some current and future pupils and families drop in to see how the project was progressing.
We are also excited to announce that we have signed up to the RHS School Gardening Awards scheme. The five-level rewards scheme provides achievable goals which will help us turn our garden into a valuable learning resource. Our Level 1 evidence has been submitted, so fingers crossed we will have some good news regarding this award to share with you soon!